Costa Rican Leather Leaf
Twenty-five years of growing Leather Leaf fern in Central America has resulted in the production of the finest hand graded fern available on today's market.


Hand graded
Vacuum Sealed
Specially treated for longevity
Comes in three sizes: Junior, Medium, or Designer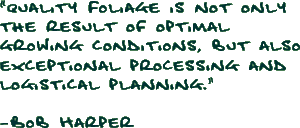 "The advantage to individually vacuum-sealed bunches is that a customer can leave a bunch out for several days in an air-conditioned environment and the product will retain its freshness from the day it was harvested and graded on the farm in Costa Rica."
-Floral and Nursery Times


Imported greenery
Chile
Avellano Leaves


Chilean Mix
Feather Fern


Lycopodium


Ponpon


Rhombus Fern



Costa Rica
Junior VakPak Leather Leaf
Medium VakPak Leather Leaf


Designer VakPak Leather Leaf
Frog Pak (Med. VakPak Leather)
Tree Fern
VakPak Phoenix Robellini


VakPak Tropicals



Guatemala
Jade


Extra Large Jade
Premium Emerald


Medium Emerald
Jumbo Emerald
Medium Leather Leaf

Mexico
Teepee



Italy
Italian Ruscus 150 grm.
Italian Ruscus 200 grm.


Italian Ruscus 200 grm. 42"-47"
Variegated Nygra


Copper Beech




domestic greenery
Florida Greens
Aspidistra, Green


Aspidistra, Milky Way


Coffee Foliage


Cocculous


Coontie


Foxtail


Ivy, Green
Ivy, Variegated
Leather Leaf


Lilly Grass, Green


Lilly Grass, Var.


Ming Fern


Monstera


Moss
Deer
Mood
Sheet


Spanish


Spanish (over 10)
Nagi


Palmetto Fans
Pittosporum, Green


Pittosporum, Var.


Plumosus


Vakpak Plumosus


Podocarpus


Ruscus (Israeli)


Sprengeri


Sword Fern


Tree Fern


Umbrella



Galax



Western Greens
Bear Grass


Huckleberry


Flat Fern


Curly Willow M.


Curly Willow Tips
Oregonia


Oregonia Tips


Rush (Horsetail)
Salal


Salal Tips


Scotch Broom